FIXME This page is not fully translated, yet. Please help completing the translation.
(remove this paragraph once the translation is finished)
Ajouter une plateforme 'Jump through'
Note
Ce tutoriel fait partie du tutoriel mais vous pouvez également l'utiliser pour tout autre jeu de plateforme !
Pour l'instant, toutes les plateformes sont solides (c'est-à-dire « imperméables », mais nous pouvons également créer une plate-forme à travers laquelle vous pouvez passer.
Créer le nouvel objet
Créez un nouvel objet Sprite, ajoutez une animation et choisissez l'image appelée bridgeLogs :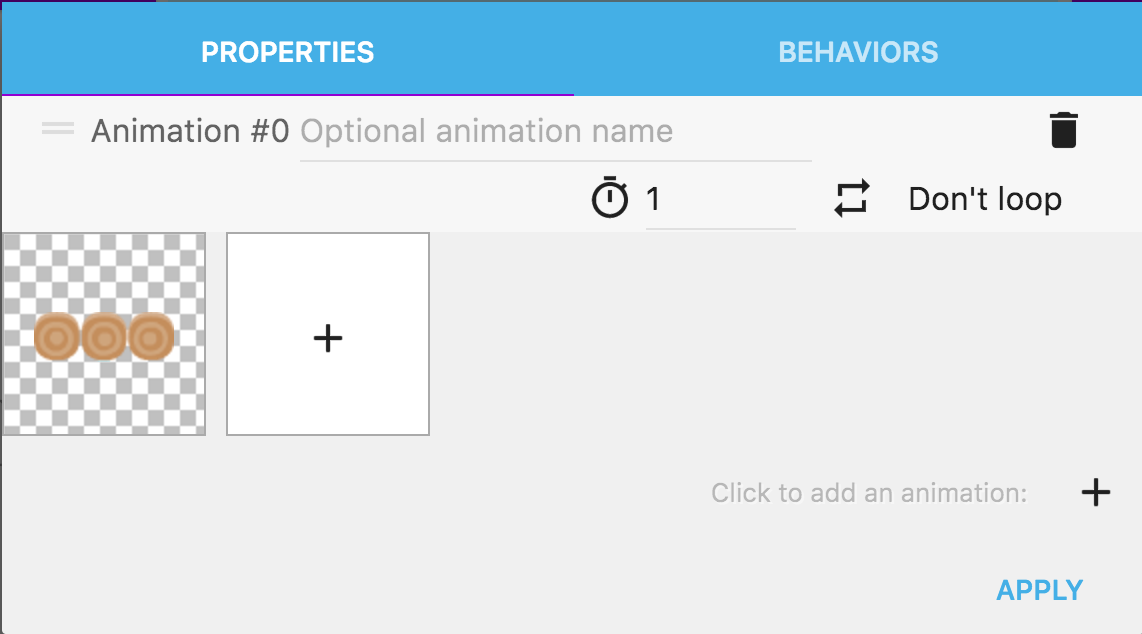 Renommez l'objet et appelez-le SmallBridge :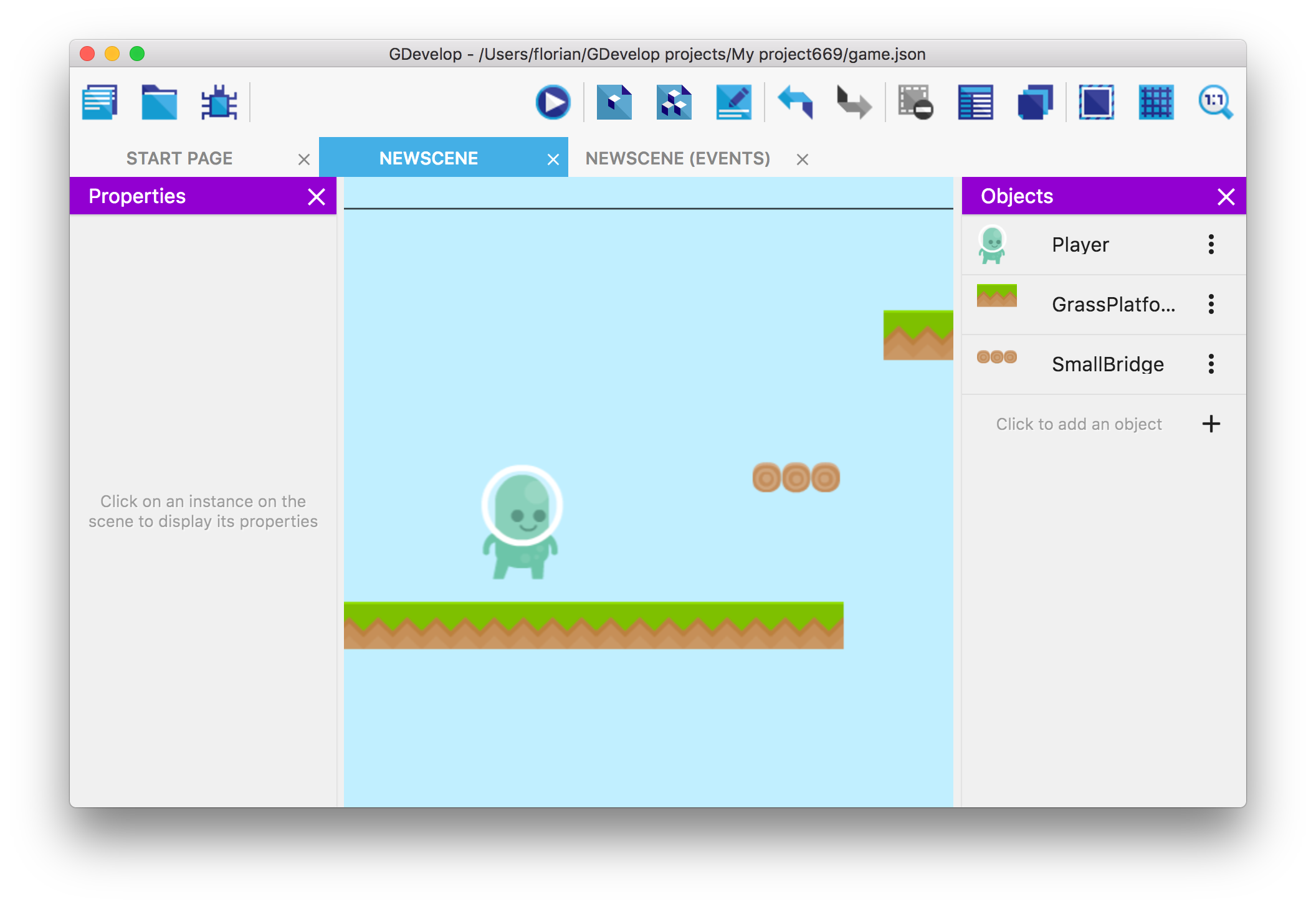 Faites-en une plate-forme "jump-thru"
Pour le moment, l'objet n'est pas considéré comme une plate-forme. Ouvrez l'éditeur d'objet (clic droit sur le nom SmallBridge puis sur Edit Object et activez l'onglet Behaviors dans l'éditeur. Ajoutez le comportement appelé Platform puis sélectionnez Jumpthru Platform dans la liste qui s'ouvre lorsque vous cliquez le champ Type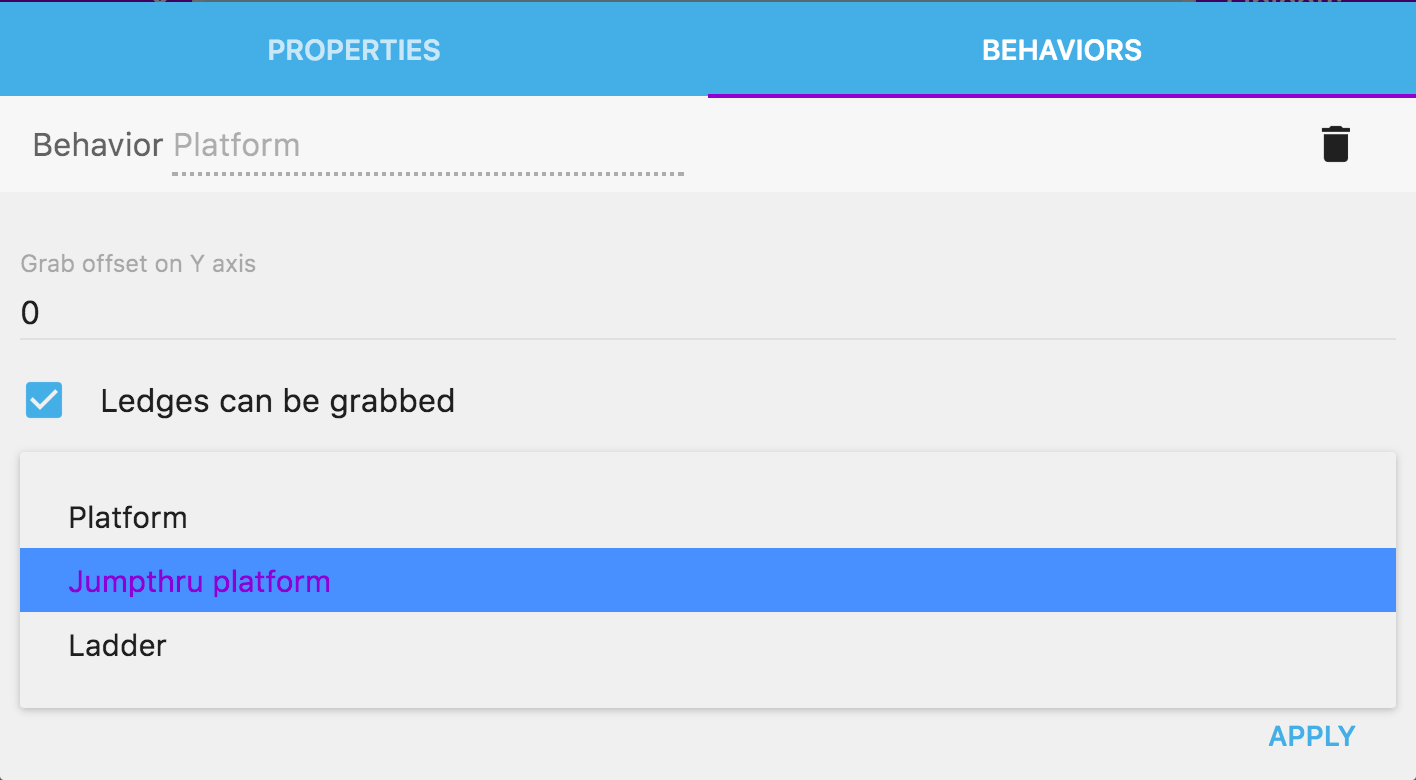 Testez votre travail
Vous pouvez maintenant lancer un aperçu et constater que vous pouvez sauter sur le pont mais aussi passez à travers !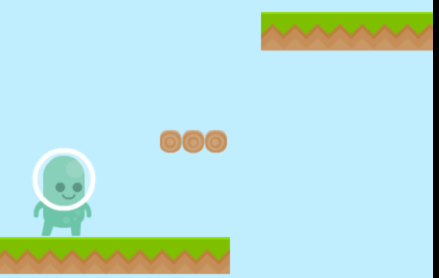 Et, comme d'habitude, n'oubliez pas de sauvegarder votre jeu !
Étape suivante : ajouter des objets d'arrière-plan
Le niveau est encore passablement vide. Ajoutons quelques objets d'arrière-plan pour le rendre plus joli. Nous ajouterons ensuite des pièces de monnaie à collectionner et des ennemis !
➡️ Lisez 4-add-backgrounds-objects !